Date(s) - Saturday, November 2, 2019 - Sunday, November 3, 2019
Time :
0 h 00 min - 5 h 00 min
Emplacement
Parker Lewis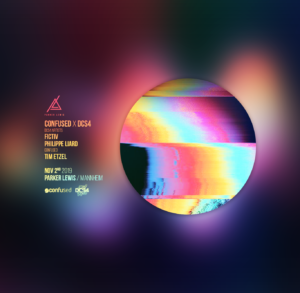 CONFUSED introduces new winds of change to the nightlife of the electronic music scene with the aim to ensure diversity regarding music and Djs. The concept is not difficult to follow, the philosophy of success is the one of uniting all kinds of people that have one thing in common, namely, MUSIC. This familiar get-together is about a big community that does not want anything else but a great and unforgettable evening with its fellow human beings.
New talents are discovered and will be supported. Djs are given the chance to prove themselves and the opportunity to make a name for themselves as well.
Confused opened the door to us and brings us to the mystique underground Club
Parker Lewis
in the heart of Mannheim; which concentrates on the best beats played by local and international artists. To ensure that the music can be properly heard, this basement club has one of the best sound systems in the region.
We are more than honoured and blessed to have DCS4 associated with these Music Institutions.
What could have been more MAGICAL than collaborating on a new concept with Confused and bring some roumanian vibes with our new recruit
Fictiv
?!?
We are so excited to share Fictiv's univers of music with you. We are going in depths with this project that touches down on minimal nuances and conjures the world in its totality, with no boundaries of time and space. It's a journey with infinite variations in terms of matter, energy and information – its perpetual development is accompanied by nothing but state of the art musical subtleness.
Here we go on the 2nd November 2019
Confused x DCS4
with our bro since ever Philippe Liard, Fictiv & friends to explore and experiment together new music adventure w. Mannheim Family & Friends!!!
Line Up:
Fictiv
Philippe Liard
Tim Etzel